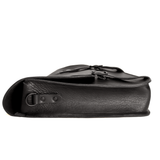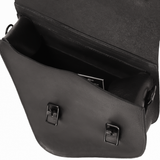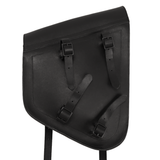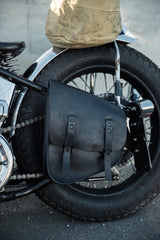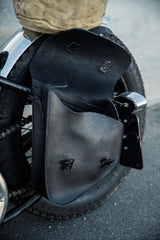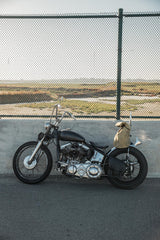 Introducing the El Paso Saddle Bag for big twin rigid frames. This hand tooled bag is expertly constructed using 2.5mm thick Full Grain Hide imported from Brazil. This style hide comes from the uppermost layer of the animal and is prized for its strength and durability as well as its distinctive look and patina that develops over time.
Designed for mounting to the left hand side of rigid frames with two upper and two lower adjustable straps. We used our signature black oxidized hardware for quick mounting and dismounting.

Every individual bag is handcrafted in the USA in our downtown Los Angeles workshop.  Intended to carry one of our signature tool rolls and an extra liter of fuel, because you never know when you will actually need it. Tested to ensure its resilience to oil, dirt, and grime and withstand the rigors of the road.