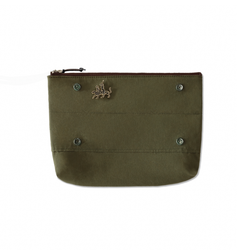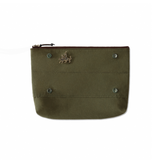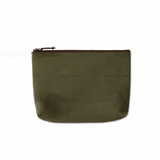 The Rugged Canvas Pouch is distinguished by its unique construction, crafted from upcycled 8.25 oz vintage US Military Pup Tents. This pouch embodies a rich history and unwavering durability. The fabric itself has served as a steadfast source of shelter for the U.S. Military in the field, dating all the way back to the Civil War.
The pouch's foundation lies in the repurposed pup tent Army Canvas, adding an intriguing layer of authenticity and character. The use of upcycled fabric not only reduces waste but also pays homage to the resilience and resourcefulness of the military.
Features a durable YKK brass zipper and an internal canvas pocket. 

Each pouch is custom made and no two are alike. 

Bags measure 11.5" X 9.5"

Made in Los Angeles, CA. 

Pin sold separately.